Practitioners
Experimental games are used as intervention tools to stimulate collective action on nature resource management. The origin of this use of experiments is the observation by Juan Camilo Cardenas in the early 2000s that when he returned to villages where experiments on common pool resources were done, communities sometimes had changes their governance as a response to lessons learned from the participation in experiments. Since 2012 we start testing the use of experimental games as intervention tools in India and Colombia (see also here). The experiments have their roots in theory and can be applied to many situations. As such it provides an intervention tool that can be applied to many communities (in contrast to games that are created with the communities).
Here we provide manuals of games that could be used as intervention tools.  We also provide videos on how the experiments are used. The experimental games do not provide solutions, but they provide a safe tacit experience by various people of the community that stimulate a discussion on governance issues of their shared natural resources. Below you find a video on experiences how the games are used in India.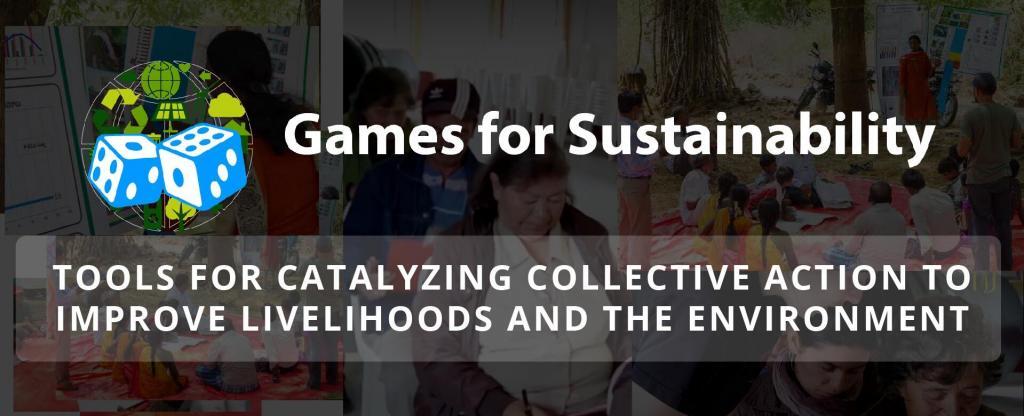 Group of scholars and practitioners who use experimental games to facilitate self-governance of common resources. Group members can share their experience with the games, share photos on the games in action and ask questions on it's proper application.
In this game participants have to make decisions to invest in maintenance and use of a check dam that acts as a public good to the group.
Here are some practical tips to get prepared for using games as a participatory tool with communities:
Practice the protocol a number of times with volunteers. You need to get used to the logistics of the instructions, paperwork and calculating the payments. You may also adjust the protocols provided below to fit better your local conditions. The examples we provide are based on our research projects in various countries, but it may not fit your situation.
Compensate the participants by a donation to the community fund, a lunch, or something else valuable.
Make a check list of all the material that you need to bring with you, including pencils.
These games are not about teaching people what to do. Have an open mind and learn from the participants.
When you start using experimental games, use this initially with communities with whom you have a good relationship and where there are no serious conflicts within the community.
If you collect data for research purposes, you need to use a consent form.
Let us know how it went so we can share your experience on the Facebook group. Become a member by clicking on the button in the right column.
Download this tips as PDF file
This website  was developed as part of, and funded by, the CGIAR Research Program on Policies, Institutions, and Markets (PIM) led by the International Food Policy Research Institute (IFPRI). PIM is in turn supported by these donors.
The CGIAR Research Program on Policies, Institutions, and Markets (PIM) leads action-oriented research to equip decisionmakers with the evidence required to develop food and agricultural policies that better serve the interests of poor producers and consumers, both men and women. PIM combines the resources of CGIAR centers and numerous international, regional, and national partners. The program is led by the International Food Policy Research Institute (IFPRI). www.pim.cgiar.org